2023 Airstream Models Explained:
Which Airstream Model Travel Trailer is best in 2023?
If there is one thing that Airstream does consistently, its updating their campers in line with evolving customer expectations. In 2023, you can expect plenty of clever and functional improvements on all Airstream travel trailer lineups. Here are the customer-centric upgrades you can expect in the new silver bullets.
Updates Across the Airstream Travel Trailer Lineup for 2023
High-Performance Merlin Solar Panels – The 2023 Airstream trailers will include high-performance 100-watt flexible solar arrays. They are aerodynamic, military-grade, work in all light conditions, have higher-UV resistance, and are more powerful than the previous generation. Depending on your trailer's size, you can expect 2 solar panels (200 watts) or 3 panels (300 watts)
Flexible Battery Options – In 2023, customers will have the option to pick the batteries that work best for their adventures once the trailer arrives at the dealership. This flexibility will enable you to have house batteries that match the lifestyle you want to pursue, whether boondocking in the wild or camping in developed RV parks.
Redesigned Media Console – To make the most of the available space, the upcoming Airstream won't have a Blu-Ray/DVD player. Instead, they will have a HDMI port, 110v outlet, and USB ports. These new features give you more flexibility when you want to stream, plug in a gadget, or power up.
12-volt TVs – With the exception of the Classic model, all Airstream trailers will arrive with a more energy-efficient TV that can operate on DC power.
Updates on Specific Airstream Models
Airstream Basecamp Travel Trailers
12V Auxiliary Outlet for Basecamp 16 – The 16 feet Basecamp will come standard with a 12V outlet for powering more devices. You'll find it at the rear street-side bench.
Tankless Water Heater for Basecamp 16 – The 2023 Basecamp 16 model will arrive with a tankless, on-demand LP water heater.
Redesigned Systems Panel – The 2023 Basecamp lineup will have an upgraded panel to control and monitor all utilities on board the trailer. It's situated above the street-side bench.
Basecamp Special Edition Model – Airstream is unveiling a new adventure-ready model that is designed on the Basecamp foundation. It's centered around sustainable features and materials.
Airstream Bambi Travel Trailers
New Clarion Radio – Expect a new high-quality radio system on the 2023 Airstream Bambi
New DC-powered Vitrofrigo Electric Refrigerator – The 19CB, 20FB, and 22FB floor plans will have a new marine fridge that has better quality.
New Shower Door Style – You'll find a new shower door design on the 19CB, 20FB, 22FB floor plans.
Airstream Caravel Travel Trailers
New DC-powered Vitrofrigo Electric Refrigerator – If you opt for the 19CB, 20FB, or 22FB floor plan, your camper will have a brand-new fridge from Vitrofrigo.
Airstream Flying Cloud Travel Trailers
23FB Twin Bed Option – You'll have the option of choosing a bedroom configuration with two separate beds. The mattresses are 5″ longer than a queen and can function as a lounge area. This setup will also include a nightstand and give you panoramic views.
Matte Grey Overhead Cabinet Finish – The overhead cabinet door above the kitchen area will now be coated in a beautiful matte grey color.
Airstream International Serenity Travel Trailers
23FB Twin Bed Option – If you don't want a front queen, the Airstream International will also include a 23FB floor plan with a twin bed layout.
Airstream Globetrotter Travel Trailers
New Furrion Cooktop and Oven – From fall 2022, all Airstream Globetrotter trailers are coming with high-quality Furrion ranges.
MERV8 Air Filter – The new models will also add upgraded air filters with higher filtering efficiency to improve indoor air quality.
Airstream Classic Travel Trailers
Updated 3-Burner Residential Style Cooktop – Fixing your favorite camping recipes just got easier with the updated 3-burner cooktop.
New, Larger Convection Oven – The upgraded oven has superior quality and larger capacity than the one found in previous models.
Current List of Airstream Models – RV Travel Trailers
Airstream Nest Travel Trailers
The Airstream Nest model is the result of Airstream's 2016 purchase od Nest Caravans in Oregon. The Airstream Nest model has a significantly different look than the classic aluminum shell Airstream models. The Airstream Nest features a molded fiberglass shell.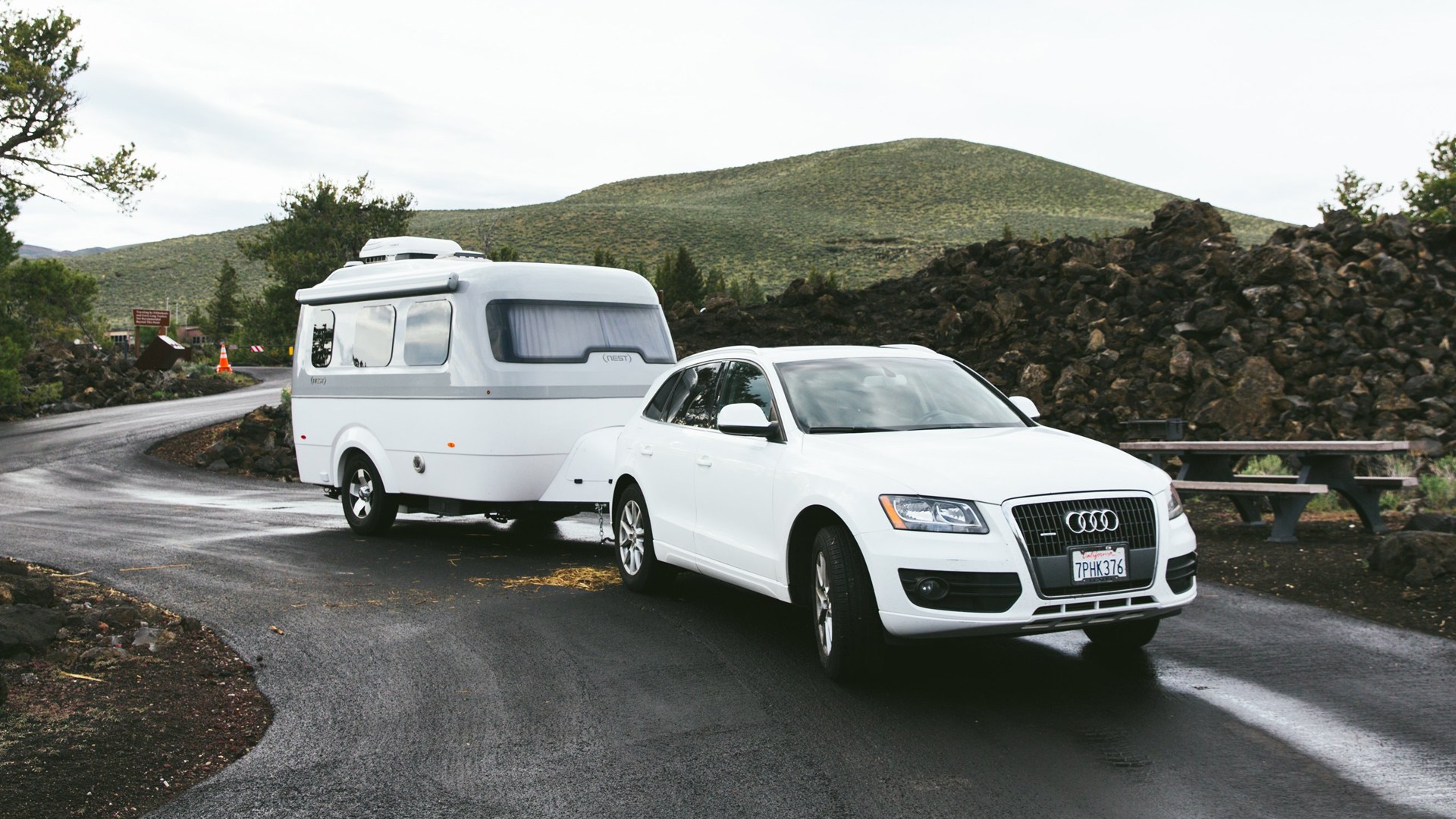 The Airstream Nest has a listed length of 16′ 7″ making it slightly longer than the 16-foot Airstream Sport model. The Airstream Nest also has a base weight of 3,400 lbs, making it an attractive lightweight travel trailer.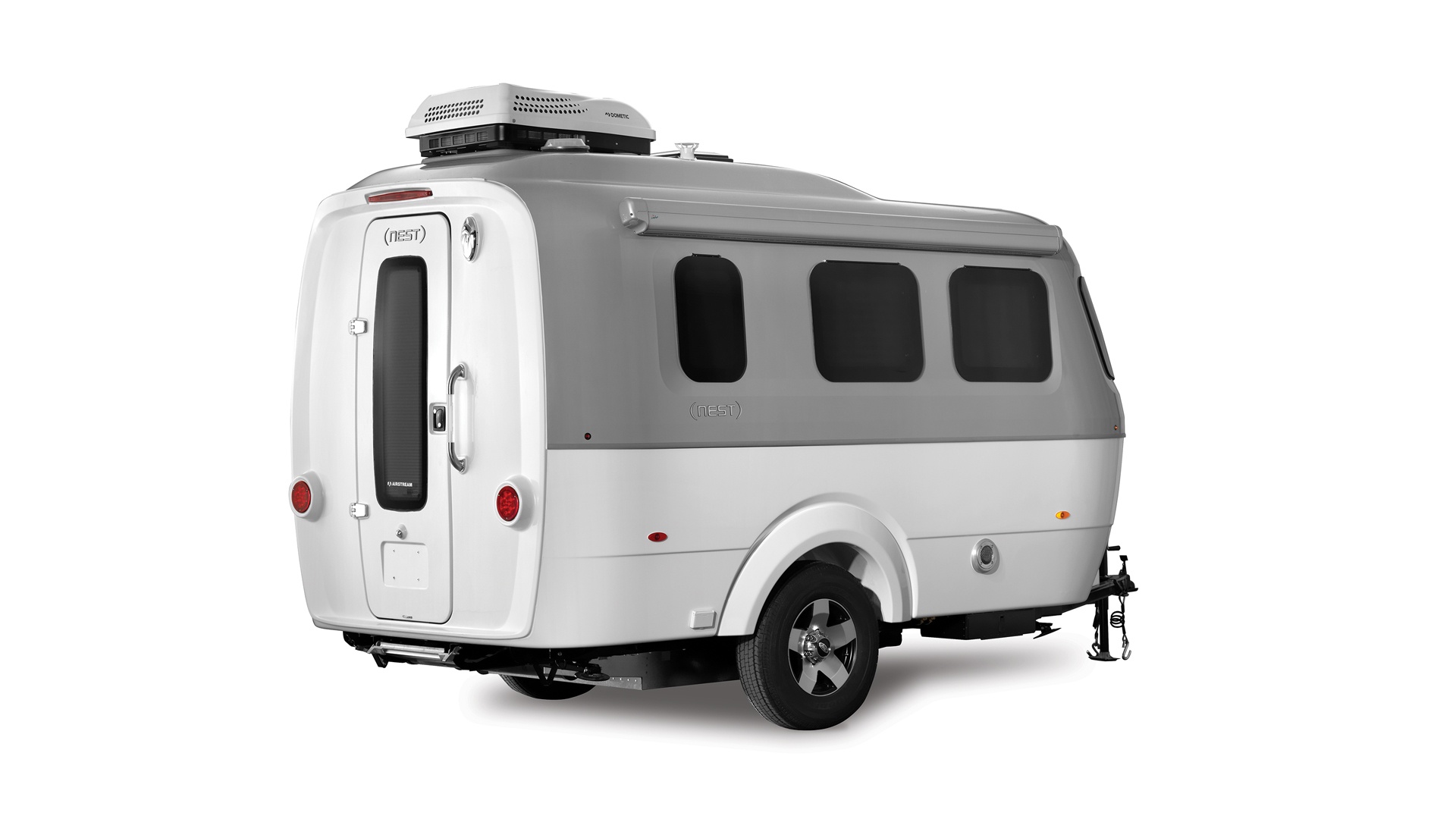 This Airstream model sleeps 2 people on an almost queen-sized bed and lists for $45,900.
This model has now been discontinued by Airstream
Airstream Basecamp Travel Trailers
The Airstream Basecamp travel trailer model is another new Airstream model that was first introduced in 2007, but poor sales led Airstream to discontinuing this travel trailer model until 2017 when then second-edition Airstream Basecamp was launched.
The Airstream Basecamp is one of the lightest Airstream travel trailer models, weighing in at 2,585 pounds in its base configurations. That lightweight design makes the Airstream Basecamp light enough where even some cross-over vehicles can tow it safely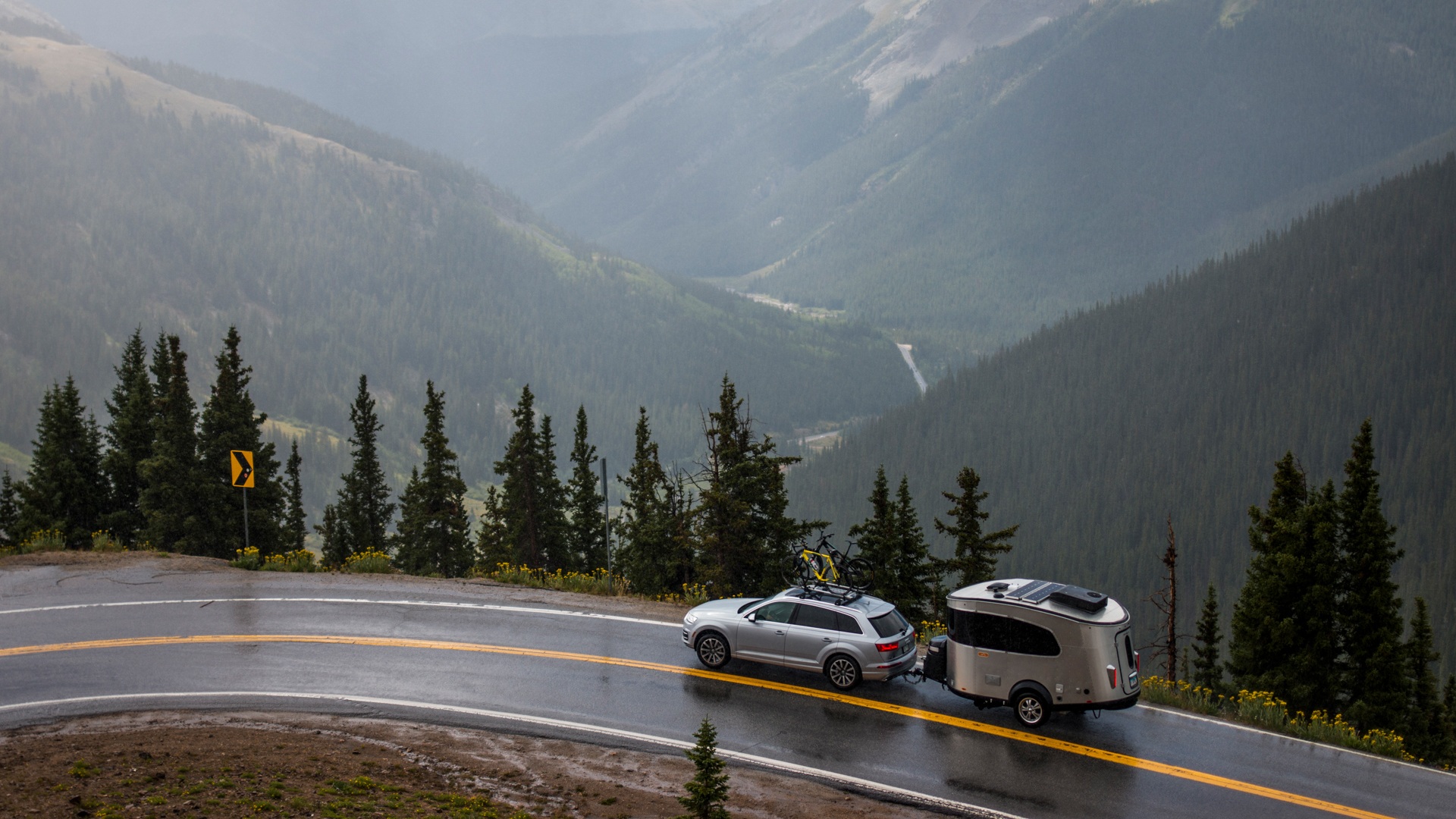 Check out the Airstream Basecamp at Airstream.com
Airstream Bambi Travel Trailers
The Bambi has been the nickname for the smaller Airstream models for years, but Airstream has now decided to develop an official Bambi travel trailer line. The Bambi model is another light weight single-axle travel trailer model with floor plans ranging from 16-feet to 22-feet in length.
The 16-foot Airstream Bambi trailer has a trailer weight of just 3000 lbs with propane and batteries, and a gross trailer weight of 3,500 lbs, making it another lightweight Airstream travel trailer under 4,000 pounds.
The 22-foot Airstream Bambi floor plan weighs in a little heavier with a maximum gross trailer weight (GVWR) of 5000 lbs.
Airstream Caravel Travel Trailers
The Airstream Caravel models fills out Airstream's smaller travel trailer selections. The Caravel model offers four floor plans in lengths from 16 to 22 feet on a single-axle trailer. The Caravel stands as an upgrade from the Bambi models, adding the front aluminum rock guards and a rear polished bumper for added storage.
Airstream also has upgraded the manual hitch jack on the Bambi to a powered hitch jack on the Caravel Airstream models, along with upgraded stability jacks.
The Caravel interior also features upgraded upholstery and improved fixtures such as replacing the plastic toilet in the Bambi models with a porcelain toilet in the Caravel.
Airstream Flying Cloud Travel Trailers
The Airstream Flying Cloud is the first full series Airstream model with trailer lengths ranging from 23 to 30 feet in length. The Airstream Flying Cloud also comes in several sleeping configurations with either two twin beds or a single queen-sized bed.
The Airstream Flying Cloud was my first introduction to Airstream ownership and I've been living in my Airstream full-time.
Because of the multiple floor plans and sizes, the Airstream Flying Cloud has been one of Airstream's most popular travel trailer models.
Airstream International Serenity Travel Trailers
The next Airstream model above the Flying Cloud is the Airstream International Serenity. The International Serenity Airstream model is the first of what I would consider the "higher-end" Airstream models (with the Globetrotter and Classic).
The International Serenity model offers 12 different floor plans in trailer lengths from 23 to 30 feet. Seven of the floor plans offer one queen-size bed while the other five floor plans feature two twin beds.
The Airstream International Serenity has an upgraded interior with panoramic windows as well as three different interior decor options.
Airstream Globetrotter Travel Trailers
The Airstream Globetrotter models also offer trailer lengths from 23 to 30 feet, but with just 8 different floor plans (compared to the International Serenity's 12 floor plans). Like most other Airstream models, the Globetrotter offers either a queen-sized bed or two twin bed sleeping options.
\The Globetrotter also features Corian countertops and four different decor and interior designs include a dark walnut or natural elm cabinetry style.
Airstream Classic Travel Trailers
The top of the line Airstream model continues to be the Airstream Classic. Designed for extended trips or full-time Airstream living, the Airstream Classic comes in only two lengths, as a 30-foot and 33-foot trailer.
The 30-foot Airstream Classic features a top-of-the-line kitchen with Corianders counter tops, Kohler faucet and Baraldi refrigerator and oven.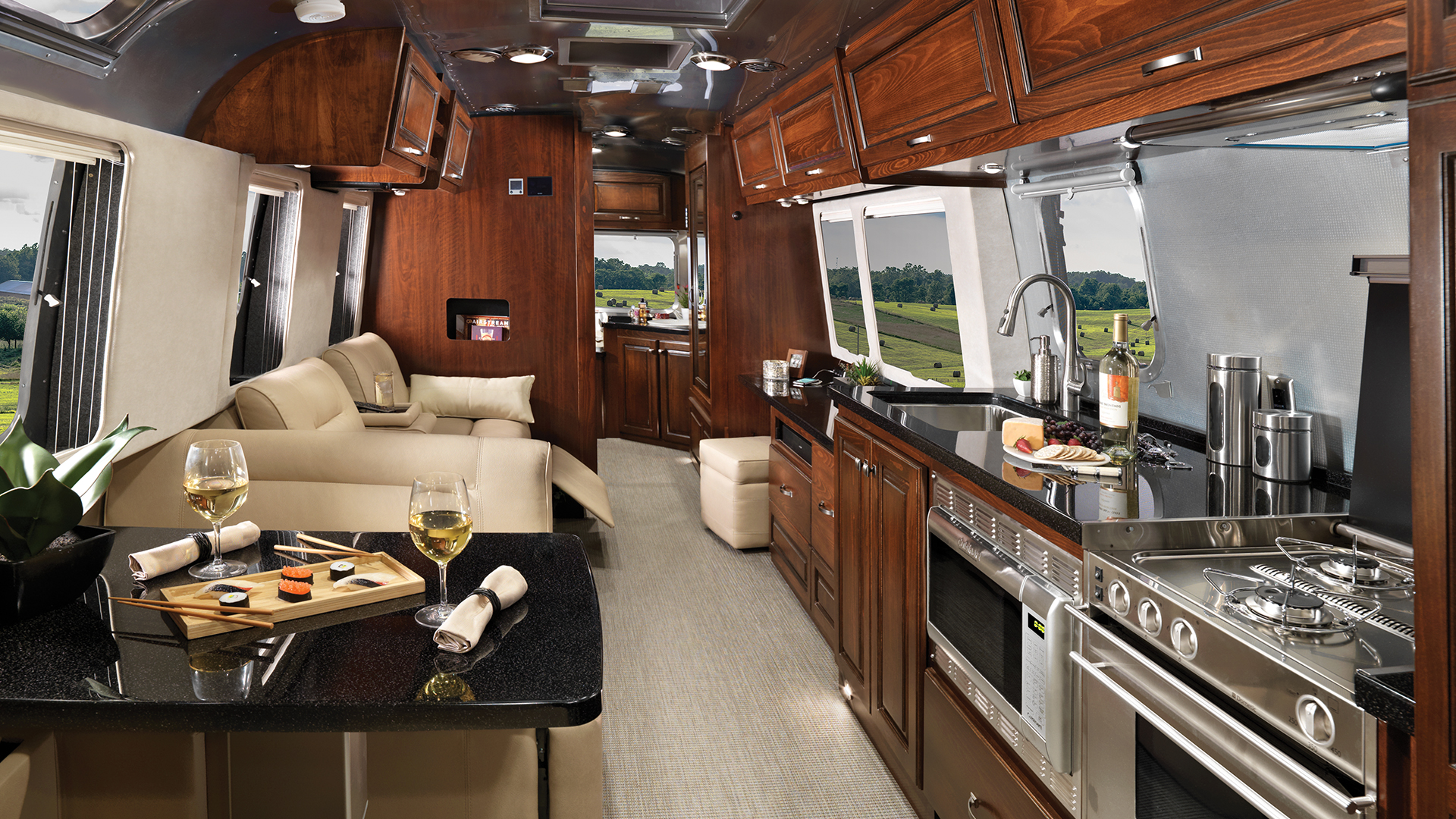 The living area of the Airstream Classic models offer six different interior decors ranging from their Comfort White with Earl Grey Ultraleather to a Cognac Maple with Chestnut Ultraleather option.
Airstream continues to build upon an American classic design. The full line of Airstream models offer a configuration to fit almost any Airstream-lover's life with the options ranging from a small 16-foot Nest and Basecamp to the luxurious 33-foot Airstream Classic.
Ever wonder why are Airstreams so expensive? We break it down and include an inside look at the Airstream production facility in Ohio.
If you've been thinking about buying an Airstream, but still aren't sure, try out these eight amazing Airstream hotels first!
Let us know what your favorite Airstream model is in the comments below!