The beauty of Sequoia National Park is breathtaking. While you could easily sink down into a comfortable bed at a local lodge or hotel for your visit, it is better to stay at one of the local campgrounds. After all, why shouldn't you fall asleep to the sounds of nature and wake up in the same way??
Best Places to Camp in Sequoia National Park
There are fourteen campgrounds within Sequoia National Park and many others in the surrounding areas. Those campgrounds within the park do not have hookups for RVs. However, that doesn't mean you cannot bring your RV for a slightly luxurious, yet rustic, camping adventure.
You will find the Lodgepole Campground near the Giant Forest area of the park, right near the Marble Fork of the Kaweah River. There are two hundred campsites that are perfect for tents and RVs up to forty-two feet long. This campground is open from the middle of April through the end of November. It is best to make reservations from the end of May through the end of September, but the rest of the time, it is all on a first-come basis.
The sites on the northern side of the river are best for RVs, while the south side campsites are perfect for tent camping. The camping sites are scattered amongst different loops and the better campsites are furthest from the visitor center. You can easily hop onto the shuttle bus at the visitor center to get to all the different trailheads for hiking, as well as the different sites throughout the park.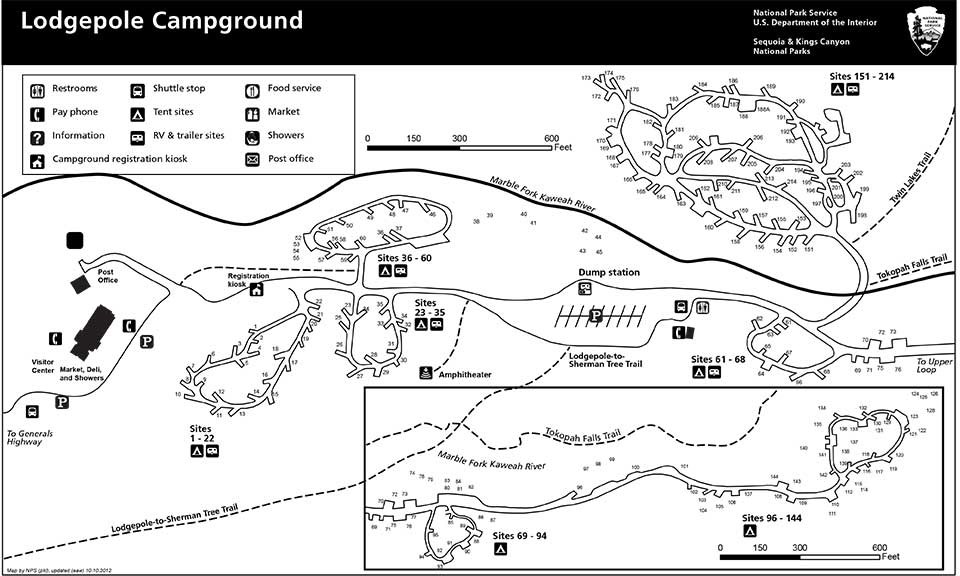 This campground is an excellent option if you plan on spending time in both Sequoia National Park and Kings Canyon National Park. Big Meadows Campground is only open between June and September, so you must plan your trip accordingly. There are only forty campsites and each one has its own cabin.
Those cabins are perfect if you are new to camping or are unable to bring all your camping gear with you. Each site has a fire pit, picnic table, and the mandatory food storage locker. There isn't any drinkable water and the closest you will come to a restroom is a vault toilet. You can easily make a reservation for a cabin up to six months in advance.
If you are looking for a slightly more secluded camping experience in Sequoia National Park, Princess Campground is your best option. This campground accepts tents and RVs, but there are no hookups.
Princess Campground is nestled in an alpine meadow in the valley of Indian Basin Grove and near Hume Lake. There are vault toilets, as well as a trash drop off area, which is perfect for removing all garbage from your site before the bears smell it.
It is important to note that there is no cellphone service at this campground. You will need to travel a little bit to get a signal. You also cannot have a fire unless you obtain a permit first.
Winter camping is possible at Potwisha Campground, because this is one of the few sections of the park that hardly gets any snow. Of course, its location means that it is always warmer than usual during the summer months.
There are forty-two sites and they will accommodate both tents and RVs. You will only need to travel four miles from the entrance of the park to reach this campground. This means you will be close to many of the landmarks and things you want to do during your visit.
Buckeye Flat can be found in the southern area of the park. It is closer to Hospital Rock and further away from General Sherman Tree and Moro Rock. There are only twenty-eight campsites and they are all for tents. You can easily make a reservation for any of the sites up to six months in advance.
To get to this campground, you must travel along a two-way road that is very narrow. The road also hugs the side of the mountain, so you will quickly see why no RVs are allowed.
This is the second most popular campground in the park, due to its location. Dorst Creek Campground is before the Giant Forest area of the park. This is another excellent camping option if you plan on visiting both national parks in the area.
There are two hundred eighty-one campsites and most RVs fit in the sites. You can make your tent or RV reservation up to six months in advance. The shuttle stops at this campground, so you can easily make your way around the park. This is also where the hiking trail to Muir Grove is located, so you won't need to go far to start your hike to the massive sequoias.
Cold Springs Campground is one of the campgrounds in Sequoia National Park that does not accept reservations. Therefore, you must arrive early if you want one of the thirty-one sites. You can only tent at this campground and you must hike in from your vehicle.
The vault toilets and pumped water will make you feel at home in this rustic area. After a long day of hiking the nearby trails, fishing, or taking a boat ride, you can cook your dinner on an open campfire.
No matter which campground you choose, you must be mindful of bears. They are all over the park and you must keep your distance. You must also store all your food in the food storage lockers, so the bears do not come closer to your campsite. If you do not utilize the lockers, you will be heavily fined.
These are the best places to camp in Sequoia National Park. Each one offers a unique way to see the park while having the experiences you want the most during your visit. It is best to reserve a camping spot early if you can and want a specific one because they do fill up quickly. However, unless it is the middle of peak season, you shouldn't have a problem finding a place to spend the night in this gorgeous part of the world.
Looking for things to see and do in Sequoia National Park?
Read our tips on Sequoia National Park here and our tips on Pinnacles National Park and Lassen Volcanic National Park