As an Airstream owner, you can camp at any campground you desire. However, sometimes it's fun to camp with other Airstream owners, because you all have Airstream stories to share with each other. Plus, you can get so many ideas of how to decorate and utilize your Airstream by simply looking into all those other Airstreams that are parked around yours at these campgrounds!
Airstream Campgrounds
You will find the Top of Georgia Airstream Park in Helen, Georgia, which is a glorious destination in its own right. When you pull your Airstream into one of these campsites, you will discover that you are surrounded by the Chattahoochee National Forest. This area is perfect for all those outdoor adventures you love, including hiking part of the Appalachian Trail. When you are not visiting with your fellow Airstreamers, you can hike to the plethora of nearby waterfalls, explore the eight state parks that are close by, or do a little shopping over in the town of Helen, Georgia.
The Top of Georgia Airstream Park is run by the Georgia unit of the WBAC (Wally Byam Airstream Club) and holds Airstream rallies throughout the year.
The Minnesota Airstream Park is one of a few true Airstream-only parks in the U.S.
The lots at the Minnesota Airstream Park are all spacious and you will find them all between four circles and two strips of land. The circle areas are shadier, but the views are better from the strips. There is always something happening at this campground, so you should never plan on sitting back and doing nothing during your stay. The locals, as the campers are called, get together to walk in the morning and play golf at the on-site course in the afternoon. Evenings bring campfires and s'mores, which no one can resist at this Airstream campground.
Washington Land Yacht Harbor is an Airstream campground located within South Puget Sound, so you will find yourself staying close to the water, mountains, and the city. There are more than one hundred Airstream RV sites at this campground, as well as a meeting room and event hall. You will discover many things to do while at this campground, so plan on staying for at least a week!
Over in Olympia, it will be all about the State Capitol Museum and McChord Air Museum, while Seattle brings visits to Pike Place Market and the Space Needle. You can even plan a long day trip up to Vancouver if you have the time. 
The North Texas Airstream Community is a gated Airstream campground that has spacious lots for you to park your Airstream in. This campground has many scheduled activities, but you may want to skip them all, as you are exploring nearby Waco and the Dallas Fort Worth Metroplex. While you can bring your Airstream to this campground for a week, you can also park it here long term, at reduced rates, if you want to get away from the cold where you live. 
Virginia Highland Haven was created back in 1970 when this seventy-five-acre parcel of land was purchased within the Blue Ridge Mountains. There are forty-six spacious campsites in all, so you will have plenty of room during your stay. You can easily hike along seventy-five miles of trails to see the waterfall and many different views of the mountains. Not too far from this campground is the Blue Ridge Parkway, which is perfect for when you want to take a long drive or simply stop at Mabry Mill. The Bottom Creek Gorge Nature Preserve is near the parkway and it is where you can take a five-mile hike to the second tallest waterfall in the state. You won't want to forget about Floyd, VA to the south, because the town has everything you need for your time out in the countryside.
Ponderosa Shadows Inc is an Airstream campground over in Eastern Arizona. This campground is only open in the spring, summer, and the fall and you must be fifty years or older to obtain a membership to stay in this park. Since only members can stay within this campground, you must keep that in mind if you decide you want to visit.
There is so much to do in the eastern Arizona area, so it is an excellent idea to check it out. Your time will be spent go-karting, swimming, golfing, playing tennis, antiquing, hiking, and even horseback riding.
If you are interested in a membership at Ponderosa Shadows, you will be happy to know that you can stay at this Airstream campground for three days for free to see what it is like before having to purchase a membership.
The Penn Wood Airstream Park can be found near the town of Clarion in the state of Pennsylvania. This is a sixty-six-acre area filled with seasonal sites in a peaceful setting. You can easily visit the Allegheny National Forest and the Cook Forest State Park during your stay at this campground, plus there is so much to do in the Clarion area.
This amazing Airstream camping destination can be found to the south of Crossville, Tennessee. Often referred to as TCPC, the Tennessee Cumberland Plateau Campground is open from the month of April through the middle of November and it is easy to make a reservation for a campsite online. Once you park your Airstream trailer within your campsite, you can venture out to explore the three hundred seventy-six acres of land within dozens of different walking trails.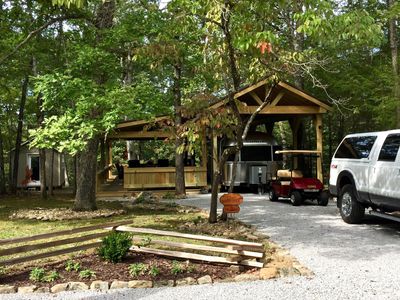 The seven-acre lake is perfect for swimming, although you might not spend as much time in it as you would like if you are exploring everything Crossville has to offer. After all, the town has the Cumberland Mountain State Park, Historic Homesteads Tower Museum, and the Cumberland County Playhouse. Oh, and don't forget the Highland Manor Winery! 
These are some of the best Airstream campgrounds that you will want to consider for your next Airstream camping adventure. Each one offers one or two unique features, so check them all out and see which one interests you the most. You can then work your way through the rest of the list until you discover your all-time favorite of them all.